As the daughter of a proud career Marine who fought in two wars, Susan Lenaway was impressed by Youngren Construction's work with Homes For Our Troops (HFOT), building specially adapted custom homes for severely injured veterans. Currently an executive with a major national mortgage company, she says, "In my former position with USAA, I promoted HFOT Volunteer Days."
Susan and her husband Bill, a math teacher and tennis coach at Fallbrook High School, moved to Fallbrook in 2007. Several years later, they began searching for a property with a guest house where Susan's widowed dad, Dave Fricker, could live independent of them. Not finding anything suitable – "we didn't want to consign my dad to a tiny unit built as an afterthought" – in 2016 they purchased a beautiful home on a 2.3-acre site, where they could build the perfect sanctuary for Dave.
They chose Youngren Construction for several reasons, Bill explains. "Our youngest son attended school with Scott and Jen's son, so we knew them. The company has built a reputation for excellent quality work. With Dave's military service and Susan's high regard for the company's involvement with veterans, working with them was an ideal fit."
Cooking Up the Perfect Place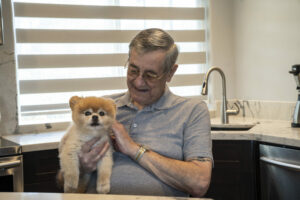 To create an Accessory Dwelling Unit (ADU) tailored to Dave, a fiercely independent man now in his early 80s, the Lenaways worked closely with the Youngren team to design a 1,100-square-foot home with an open floor plan, spacious kitchen for this avid cook, two-car garage, lighted flagpole to fly both the American and Marine Corps flags, and white picket fence to ensconce Dave's two dogs.
They say, "We appreciated Youngren's attention to detail, proactive approach and super-accommodating team of internal staff and outside contractors. They did a fantastic job matching our two homes; down to the paint, stone veneer, tile, and trim. They even had a front door made that looks exactly like ours. Based on their HFOT expertise, they suggested we incorporate adaptive features like safety bars in the shower. Soon after Dave moved in, he had hip replacement surgery, making these amenities a blessing."
The entire process was smooth, efficient and free of hassles, say the Lenaways. "We were kept informed at every step along the way. We never felt like we had to operate in panic mode. Dave loves having a comfortable home that is nearby but very private."
Susan and Bill confide, "Dave's home is perfect for him and someday it might be perfect for us. Eventually, we might rent out our big house and move into the 'grandpa' flat; aging comfortably in place just as Dave is doing today."