A bright, modern bathroom update that's also fully ADA accessible for aging in place. That's just what our clients needed, and the Youngren Construction team delivered. 
With decades of experience in the horticulture industry, longtime Fallbrook residents Frank and Suzie Brock understand the seasons of plants, and of people. As mature adults, they wanted to prepare for the next season of their life by remodeling their master bathroom so they could age in place in their charming, European-cottage-style home.
They say, "We were impressed by a Youngren Construction ad highlighting the company's work with disabled vets. After hiring them, we became equally impressed by their attention to every detail, and to us."
The multifaceted project was accomplished in less time than projected – a swift eight weeks – thanks to extensive pre-planning, innovative computer-generated design, timely ordering of materials, daily work by what the Brocks praise as "top-notch staff and sub-contractors," and continuous oversight.
The Brocks worked closely with the Youngren team to revamp the bathroom and adjoining walk-in closet without changing the footprint. The tub was removed and a large, easy-access shower with room for a shower chair was installed, along with accommodations for handrails, and many attractive amenities to create a welcoming bathroom and efficient use of space. Since their primary living area, including master bedroom, is on the first floor, the couple can now look forward to a comfortable and safe future in their cherished home.
Showered with Attention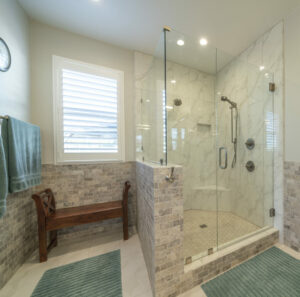 "Each Youngren team member was professional, knowledgeable and committed to meeting our needs," Suzie and Frank report. "Before work began, Jen Youngren came to our home to go over everything with us thoroughly; helping us choose the color palette and recommending ways to enhance our closet space. Viewing the design on screen helped us envision the results and enabled us to make tweaks along the way. Jen and Carla Boldt made sure everything was ordered ahead of time to prevent delays, and foreman Mike Land kept the project smoothly moving."
Explaining that they conduct their plant purveying business out of their house with their adult daughter, who is allergic to dust, the Brocks say they especially appreciated the crew's extra emphasis on precautionary measures to minimize exposure to allergens.
As they admire their new bathroom, the Brocks conclude, "We always had the utmost confidence in the entire Youngren team. From pre-construction to the final walk-through, we were able to live and work with ease in our home the entire time, without one glitch!"