"We were not looking to create a showplace beauty, but a safe haven in which we could comfortably age. Thanks to the Youngren team, our remodeled, en-suite master bathroom is both!"
So say Joni and Dennis Meredith, who operate their science-based communications consulting business, Glyphus LLC, from their succulent-encircled hilltop home in Fallbrook's Pala Mesa area. The redesigned bathroom perfectly complements the elegant yet immensely livable style of their residence, which celebrates their love of Native American art discovered on their travels.
Having moved from North Carolina to Fallbrook to be closer to children and grandchildren, the Merediths became the second owners of their home, which was built in 2013. The bathroom was serviceable, but far from stylish (or safe.)
Joni relates, "We wanted to make this our forever home, but needed to change the bathroom to accommodate our needs as we get older. My two near-falls involving a step-in shower and a tub we never used convinced us to do it now."
Agreeing with his wife of five-plus decades, Dennis chuckles, "What was beyond our contemplation was Youngren Construction taking the space from meh to marvelous."
Safety and Beauty Combine in this Beautiful Bathroom Remodel
Working closely with the Merediths, Youngren remodeled the bathroom in a smooth 12-week construction process.
Some of the many safety features include:
Easy-moving cabinet pulls and faucet handles
Grab bars installed in the gorgeous new shower
Grab bars incorporated into the toilet roll holder
Substructures built in the spacious, floor-level shower with an eye toward future grab bars.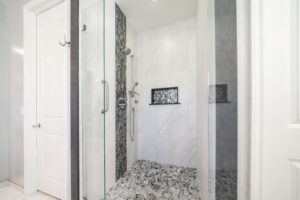 After removing the old tub, the existing cabinetry was preserved, extended, and painted in colors selected by Joni with help from Jen Youngren. Joni said, "Jen is a gifted designer with fabulous ideas. The sub-contractors also recommended great options."
Dennis adds, "We could rely on each of them to give us their best advice, steer us in the right direction and in fact put us on a better path. We are very happy with the results, and with Youngren."
Dennis, states, "I've been in the communications business for a half- century. I can say with complete sincerity that everyone we dealt with at Youngren communicates beautifully. From Jennifer on the design end to Mike on project management to all the subs – even the Youngrens' son Nash, who jack-hammered the floor."
Now Joni and Dennis can age in place comfortably and safely, knowing their bathroom will meet their needs as they grow older and wiser together.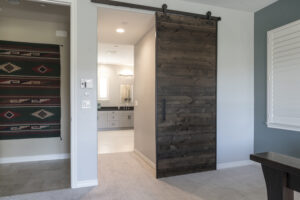 Click here to view the full portfolio for this bathroom remodel.
Do you need a bathroom renovation to comfortably and safely age in place?
Call Youngren Construction and let's get building! (760) 728-9874