How "hometown friendly" is longtime residential and commercial general contractor Youngren Construction? Very! 
A warm family feeling permeates the 11-person company, which was established in 1992. It is owned by local couple, Scott and Jennifer Youngren, who grew up in the area, are happily married and are raising their family here. They have instilled a strong, hands-on work ethic in their children Nash and Katie by teaching them the trade. 
"We regard our employees as extended family; many have been with us for five, ten and even 20 years," Scott Youngren said. "We also work closely with our longtime team of professionals to ensure our clients enjoy exceptional-quality design and construction; be it a bathroom update, upscale kitchen remodel, gracious outdoor living space, second story addition or total renovation. When you hire Youngren for any size project, you enjoy the personalized attention of our entire team, from office staff to field crews and service providers – all of us!" 
Youngren Construction also specializes in new custom-home construction and wide-ranging commercial projects. Successes abound in Fallbrook and beyond. 
"One major commercial project presented a spectacular challenge," Scott Youngren said. "We completed massive tenant improvements on three new buildings within three months for The Garmon Corporation in Temecula. We finished 36,000 square feet of office, manufacturing and warehouse spaces under budget and not just on time, but two weeks early! We're on track to match this achievement on our current Garmon project – one of our many valued repeat customers." 
Sometimes, this "repeat" is all in the family, Scott said. 
"We created four projects, from room remodels to full home renovations, for four members of one family on a scenic Fallbrook mountaintop," he said.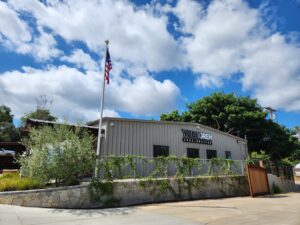 Committed to Veterans Through Homes for Our Troops 
In addition to longevity, professionalism, a full range of construction services, a long list of appreciative clients and an authentic Fallbrook-friendly focus, other stellar qualities set Youngren Construction apart. Reflecting its passion to serve military men and women who selflessly served our country, Youngren Construction is a VA-certified builder adept at helping clients navigate the complexities of Department of Veterans Affairs requirements. 
"We are honored to have been involved since 2010 with Homes For Our Troops, a nonprofit that builds and donates specially adapted custom homes for severely injured veterans," Scott Youngren said. "Youngren has been hired by HFOT as a general contractor. We've completed 35 homes in Southern California, with more builds currently underway and more in the works." 
Serving the Fallbrook Community
One of Youngren Construction's most vibrant commitments is to Fallbrook. 
"We are delighted to support the community that supports our business," Jennifer Youngren said. "We sponsor several youth sports teams and community organizations. It's our way of saying thanks." 
Now in its 31st year of business, Youngren Construction has made hundreds of residential and commercial dreams comes true, with much of their business coming from repeat clients and word of mouth. 
"With every project we create, the most important thing we build are relationships," the Youngrens said.